Get access to the RCNi Portfolio AND interactive learning resources - no RCNi journal subscription required.
FIVE ways that the RCNi Portfolio will help you revalidate:
Start building your evidence right away - Unlike some other tools out there, the RCNi Portfolio includes 50 valuable CPD articles and interactive self-assessment exercises. Once complete, simply save to your Portfolio.
Designed specifically to meet the NMC's requirements - The RCNi Portfolio has a dedicated section for each of the NMC's requirements. You can use it to store evidence of personal and group delivered CPD, reflective accounts, professional development discussions, practice hours, professional indemnity and third party confirmation.
Track your progress - The RCNi Portfolio tracks your hours and evidence stored for each section against what the NMC requirements are, making it clear how much is left to complete.
Access on the go - The RCNi Portfolio and interactive CPD tools have been designed so you can access them on any device including a smart phone or tablet.
Easy to export - When ready, you can download your entire portfolio into one organised and professional PDF.
Get access immediately when you subscribe today!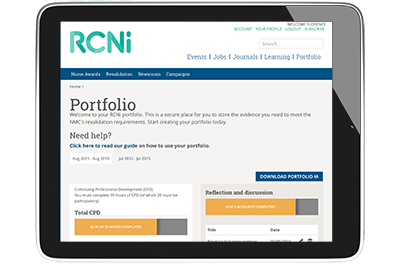 RCNi Portfolio
Built to help you meet the NMC's revalidation requirements, the portfolio allows you to store and track your evidence of personal and group delivered CPD, practice hours, reflective accounts, practice related feedback and professional indemnity. You also have access to 50 self- assessment questionnaires so you can build your evidence easily.