RCNi Learning is a brand new online education resource that supports you through your academic studies and helps you complete your continual professional development requirements.
Subscribe to RCNi Learning today and gain access to 198 interactive learning modules, with more to follow. The modules cover more than 40 topics including communication, cancer, acute care, wound care, and mental health.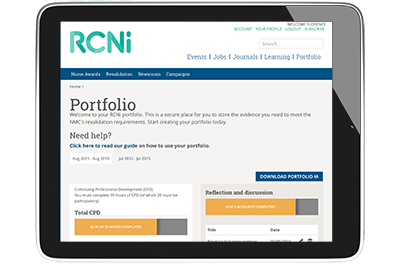 RCNi Portfolio
Built to help you meet the NMC's revalidation requirements, the portfolio allows you to store and track your evidence of personal and group delivered CPD, practice hours, reflective accounts, practice related feedback and professional indemnity. You also have access to 50 self- assessment questionnaires so you can build your evidence easily.
Please note: RCNi Learning does NOT include RCNi Portfolio outside the UK.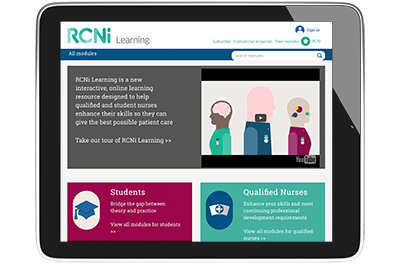 RCNi Learning
Access over 135 interactive, online learning modules on over 43 topics. All modules are accredited by the RCN and promote best practice and effective learning outcomes. Subscribers in the UK can save their completed modules and reflective accounts in their RCNi Portfolio.